Nile Developments is the first company to obtain the Research Center approval in the skyscrapers area.
Mohamed Taher, chairman of Nile Developments, says: "the company's projects are progressing according to a schedule, and it is keen on completing all phases of projects, especially the 31N project. Besides, all the studies prepared for the Nile projects were strong, which made it rectify and overcome the obstacles of the global inflation crisis."
Moreover, the company paid the installment of the 31N land to the Capital Company a month ahead of schedule and all installments are fully insured and the company has a strong financial strategy that helps in completing projects ahead of schedule.
The company has completed all engineering drawings for the 31N project, which is the first skyscraper, and all excavation works in the project have been completed at a depth of 26 meters, because the project includes a 5-floor garage, in addition to completing all replacement works of project's soil.
Taher adds that the 31N project is proceeding according to a well-studied timeline, as the project was allocated in March of 2021, designs were reviewed and initial approval was obtained in June of 2021, and the drilling permit was obtained in July 2021. Excavation work began in September 2021 and was completed in January 2022, while the replacement work started at the same time and was completed in March 2022. The Research Center approval was obtained at the end of March 2022 and concrete works will start this April.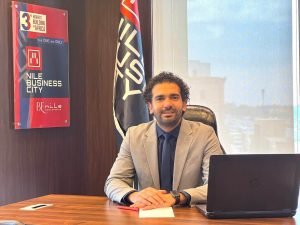 For his part, Karim Abdeen, Head of the Commercial Sector, announces the launch of the "One" phase of the Nile project which is considered the most distinguished phase not only in the project but also in the NAC, and that phase was launched in the last ten floors of the tower, making it one of the unique phases. Also, the units of that stage will be overlooking the NAC which gives it a strong competitive advantage.