Sustainable development not a luxury but necessity:
Real estate developers, consultants, and designers.
Real estate developers, consultants, and designers discussed mechanisms of applying the concept of sustainable development in real estate projects and new cities developed by the state, as well as main challenges facing the implementation of this concept, during "
Architecture and Sustainable Development

" roundtable.
The panelists pointed out that introducing sustainable development should be a general orientation by the state in developing new cities to be generalized on private real estate sector. They highlighted the necessity to raise awareness of customers on the importance of green architecture and its impact on the cost of maintenance and facility management on the long term, and maintain investment value of projects.
They stressed the importance of initiating this concept as the state moves to expand the export of real estate and address foreign clients who are aware of sustainable development and interested in obtaining sustainable property.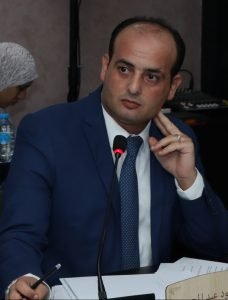 Mahmoud Abdel Mohsen,
chairperson of BMP adv. And marketing,
stressed the importance of real estate sector and urban development for local economy and national security.
Abdel Mohsen noted that real estate developers and engineering design offices are the makers of development and reconstruction as well as, they is leaders of innovation and development.
He explained that the Architecture and Sustainable Development roundtable is the first event of the company, which seeks to shed light on sustainable development, but from a different perspective by bringing together multiple parties of real estate system makers namely leading real estate developers, architects and engineering consultants to produce applicable results.
He pointed out, "It is important to keep pace with global development of reconstruction, which is moving towards sustainable development and green architecture in light of the diminution of resources and their high cost, which over time will become basic demands of client and not luxury as it is now."
Additionally, he elaborated that Egypt is still at the beginning of its steps towards this inevitable path that faces some challenges, which makes it necessary to take concrete steps on the right way with the discussion of several axes of sustainable development from different aspects.
Abdel Mohsen said that Realty Catalogue, the organizer of the roundtable, is a magazine concerned mainly with arts of architecture and urban development from its various aspects and comes within a series of publications are being issued by BMP adv. And marketing.
Competition among developers is driving innovation in producing distinctive real estate projects, says Tarek Shoukry.
Eng. Tarek Shoukry, chairperson of Real Estate Development Chamber at the Federation of Egyptian Industries (FEI) and chairperson of Arabia Holding, said that introducing sustainable development in Egypt's real estate is so far theoretical, but applying it on the ground requires more investments by developers.
Shoukry noted that foreign clients evaluate real estate units based on the factor of sustainable development more than local clients, so the state must obligate companies operating in the local market to consider this aspect when implementing their projects.
He added that there are priorities that control developer currently and the method of implementation of the project, especially with the high cost of implementation, pointing out that there is a big waste in the issue of insulation in buildings, which makes air conditioning consumption about 4 times the buildings isolated professionally.
"Without proper insulation of buildings, we have more electricity consumption and higher cost of spending on the unit, which is the same in the amount of water lost that amounts to about 82% of fresh water, and that so far, the current consumption of electricity is not ideally controlled," Shoukry explained.
He highlighted that the recent period witnessed the change of designers in the nature of real estate establishments' designs to control cost of implementation and cost of project maintenance. Moreover, low deposit allocated for project maintenance leads to reduce investment value of the project over time. This led companies to rely on solar energy in project's lighting and thus not to hike the cost.
Smart cities are implemented at a high cost of between 5 and 7% compared to traditional investment; however, they achieve higher investment return within few years, he elaborated.
He stressed that competition among developers is pushing each company to achieve a distinct product within their projects and green architecture is among these products.
He continued that 68% of property transactions in Dubai for non-UAE customers, which is the opposite of what is done in Egypt, noting, "We focus on Egyptian expatriates more than foreigners, because there is no focused marketing efforts to promote Egyptian property outside Egypt."
Shoukry confirmed that Egypt is characterized by high investment return and good purchasing power, nevertheless, we did not reach foreign client either as an individual or a real estate investment fund, but there are initial efforts by the government in cooperation with developers to develop this issue but need to intensify.

Sustainability has four main themes and green architecture must be state-driven,says Raef Fahmy.
Raef Fahmy, founder of Raef Fahmy Architects, said that sustainability has several economic, social, physical, and environmental themes linked to each other, noting that the development of human needs requires achieving sustainability.
He pointed out that each developer aims to implement a profitable project, so that it can expand in implementing other projects.
Fahmy explained that developers need to take in mind the fact that their projects should fit different generations, setting Cairo Downtown as an example, as it became a repelling area for younger generations.
He added that there must be an integrated system for the whole country to move towards the concept of sustainability and green architecture and not only implementing a project based on green architecture.
He stressed that there are a limited number of factories that manufacture solar panels and therefore their cost is high, we must learn from the countries that preceded us in architecture implementation, adding, "Individual efforts to implement green buildings should not be underestimated."
Understanding client's culture and needs in housing unit enables the design of a project receives his attention and attracts him to live in it, he concluded.

The government should prioritize urban and green sustainability,
says Mona Hussein.
Mona Hussein, owner and co-founder of Mona Hussein Design House (MHDH), said that sustainability is a big and comprehensive concept that includes green architecture and preserves the environment. Therefore, the state must prioritize sustainability in modern urban development.
Sustainability is a determining element of the progress and delays of States, thus countries should substantially implement and address the 17 Sustainable Development Goals by the United Nations and make the best use of available resources, Hussein added.
She pointed out that Egypt is a country that enjoys the sun throughout the year, which qualifies it to be one of the largest countries in the use of clean and inexpensive solar energy for the country and environmentally friendly, which should be used extensively in all industrial sectors to transform Egypt into a sustainable country.
Furthermore, she explained that there are some challenges facing investors in introducing sustainability in their projects, the most important of which is that the cost of transporting raw materials used in sustainable buildings is high.
"We have to have thought and strategy to achieve and improve Egypt's sustainable situation. Architects and designers must use raw materials that preserve the environment. For example, wood has to be chosen the most environmentally friendly types in interiors of buildings," Hussein said.
She stressed that sustainable architecture is largely reflected in interiors of buildings, which help more in sustainability and health preservation.
Applying sustainable development requires unifying state and developers' efforts, says Bashir Mostafa.
Meanwhile, Bashir Mostafa, chairperson of First Group, said that concept of sustainable development includes many axes and technical details in implementation of  project, which ensures the reuse of many resources and reduce energy waste in these projects.
"Many people think applying sustainable development in building cities is just about providing wide green areas, but actually it includes many axes and technical details in terms of the implementation of real estate projects. It simply ensures the reuse of available resources in the area of the project and reduce wasted energy, Mostafa elaborated.
He highlighted that there is no general or unified vision among developers on green architecture, adding that "the state offers lands regardless its sustainability or providing methods to reduce the loss of energy in the project."
Bashir stressed the need to change real estate designs to enable reducing energy consumption, which would also reduce the unit's cost.
The use of environmentally friendly raw materials suitable for developer and target customer at the same time in addition to achieving building sustainability is difficult, and depends mainly on the existence of a common vision between the state and developers to achieve this goal, he noted.
He stated, "In Egypt there is no recycling of demolition of buildings and therefore we find a greater cost in the disposal. Moreover, volume of electricity consumption in air conditioners is very high, as well as not to reuse rainwater and sewage again significantly causes wasting large amount of water."
Egypt has long been delayed in catching up with sustainability and green architecture, says Mohamed Abdel Ghany.
Mohamed Abdel Ghany, chairperson of Engineering Consulting Bureau (ECB), said that Egypt has long been delayed in catching up with sustainability and green architecture, which is a very important subject especially in light of the current urban renaissance in Egypt.
Abdel Ghany added that the environmental and engineering sustainability aims largely to preserve the value of property, a thought adopted by developers and real estate companies in the current period, which maintains the value of property and ensures its competitiveness abroad.
Sustainability is a broader and more comprehensive concept than a green building, but the ecosystem as a whole is smart technology for optimal use of available energy and resources, Abdel Ghany elaborated.
He pointed out that the initial cost of introducing sustainability in projects is high, but achieve a great return on investor and client after the operation of the project, because it reduces the cost of facility management, as well as that real estate and architectural projects must be distinguished to provide sustainable green architecture.
Key part of the overall planning is absent and is more apparent in lack of clarity of relationship between developer, designer and customer regarding the agreement on sustainable buildings and architecture, according to Abdel Ghany.
He disclosed that some developers have a greater interest in aesthetics of buildings regardless of their sustainability, although the cost of these unsustainable buildings is often high and they need to manage facilities at a much higher cost than sustainable buildings.

Implementation of a mixed-use project is one of project sustainability forms, 
says ahmed El Attal.
Ahmed El Attal, chairperson of El Attal Holding and member of Real Estate Development Chamber, said ancient Egyptians applied sustainability in their buildings, especially the Pyramids, which shows the greatness of this civilization.
El Attal added that Egypt was ranked 87 out of 157 countries in the Sustainable Development Goals Index in 2017. "It's our role as individuals, rather than developers, to save energy in all its forms."
He explained that the state has exerted more efforts in debuting and implementing sustainability in new cities projects, such as New Administrative Capital (NAC) and New Alamein, but there is no unified concept of sustainability among local developers.
El Attal revealed that the Administrative Capital for Urban Development (ACUD) puts 16 items for sustainable development in its contracts with developers in the NAC.
"The government does not have full awareness of the concept of sustainability, but should not be blamed entirely on the state or the developer; normal citizen must be educated the concept of sustainability and reduce energy waste and environmental resources," El Attal said.
He stressed that the implementation of a mixed-use project is one of project sustainability forms and that sustainable development facilitates the management of the project later and thus control maintenance costs.
He pointed out that in the case that developer accepts the idea and applies sustainable buildings, the client will accepts hike in cost.
Property export requires introducing more sustainable projects and expand in implementation of serviced apartments, says Ahmed Selim.
Ahmed Selim, CEO of Cairo Capital Developments and chairperson of Brickzey Commercial, said that applying sustainability in residential projects and convincing customers of its importance is difficult, as customers traditionally invest in commercial and administrative units, aiming to increase their properties' value over time as they hold longer to it.
He illustrated, "The cost of converting building for sustainable one is high by between 10 and 20% per building and investment return by 20 times over 10 years."
Selim further clarified that customer focuses on unit's price and how to pay for it before considering the unit's sustainability, as real estate investment system is now depending on building compounds, which do not achieve three elements of sustainable development that include the environment, profit and social status.
So far, there is no real estate product in local market that is implemented for export, nor are serviced apartments, which represent a basic demand for foreign client, Selim pointed out.
He added that property export requires introducing more sustainable projects and expand in implementation of serviced apartments, which are managed by hotel brands.

Cost is an essential element in building units that save resources, says shady Mahmoud.
Moreover, Shady Mahmoud, business development director and co-founder of Distance Studio Consultants (DSC), said that the cost is an essential element in building units that save energy and water and is friendly environment, noting that green buildings are part of real estate sustainable development.
Mahmoud stated, "We cannot blame developer or engineering consultants for not expanding the application of sustainable development, but the state should take the initiative and apply sustainability in its projects, so the private sector developers can follow."
He revealed that DSC is preparing masterplan of Ras El Hekma area on 55,000 feddan in cooperation with an international office based on sustainability standards. The development goal is to be a tourist destination operating throughout the year to be an attractive city for investments during the year.
Ras Al Hekma has important components as the region has a waterfront of up to 40 kilometers of the finest waterfronts in the world. It has more than 30,000 inhabitants and already has factories, he elaborated.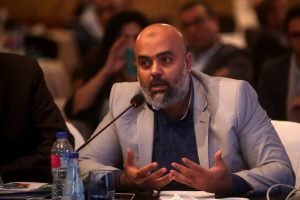 Solution architecture for sustainability are inexpensive but requires creativity by designer, says hesham Helal.
Hesham Helal founder and CEO of Criteria Design Group (CDG), asserted that architecture in general must be compatible with environment and reflects social and economic values ​​of the citizens. For example, Pharaonic and modern architecture show in each of them social values ​​of citizens.
Architectural solutions for sustainability are inexpensive but require creativity by the architect to obtain eco-economic solutions that are harmonious with environment and the nature of the social values of customers, Helal added.
Helal explained that there are some criteria that are easy to implement to reach sustainable buildings and facilities, adding that it is possible for the architect to design a unit that satisfies the developer and achieve sustainability at the same time, but he has to find suitable economic solutions because there are some architectural solutions difficult to implement and difficult to maintain.
"Designers have to innovate continuously in consolidating the concept of environmental sustainability of buildings," Helal noted. "Additionally, designer has to place some elements of sustainability in buildings interior design to ensure that the building is healthy by taking into account ventilation openings and the division of the building or house so as to ensure the entry of the sun as long as possible inside the property."
He pointed out that there are many architectural solutions, including selection of raw materials used in design of architecture building to be well-matched with environment and reduce waste of resources in addition to the use of sophisticated technology and available construction capabilities.

Initial cost of urban sustainability is expensive but preserves buildings' value, says Talaat.
Mohamed Talaat, founder and chairperson of MT Architects, said that initiating sustainability elements at the beginning of projects is costly, and it is not the first choice for developers because it put extra cost on them.
Talaat added that there is another problem facing the implementation of sustainable buildings and architecture in some projects, including the location and project's size because the project area and location may not allow the achievement of a sustainable building environmentally friendly.
He pointed out that raw materials used in sustainability are not largely available in the Egyptian market and most of them are imported from abroad therefore their cost is high.
Talaat explained that there is a big role for architectural designer to ensure that project is closer to sustainability; besides, using available capabilities motivates developer to implement the environmental and green sustainability standards.
He further stressed that architects, planners and engineers have a great responsibility in achieving sustainability because in the case of taking into account the standards set by United Nations will ensure sustainable architecture after years and will show the value of architecture that measures the development of peoples.
Egypt Vision 2030 aims to achieve broader sustainable development, adding that by 2030, all buildings must be sustainable, unlike the current building conditions in Egypt, according to Talaat.
"Building conditions in issuing licenses in terms of areas and buildings heights also skylights cannot achieve sustainable buildings. Moreover, sustainability is more than a trend, but requires a change in some procedures and requirements in some building codes," he disclosed. "Sustainability has all types and forms of architecture, whether traditional or modern, therefore, developer must be aware that the extra cost that will be incurred will benefit him even if in case of selling the entire project through the existence of a sustainable real estate asset added to his portfolio of previous experiences."
He highlighted that architects have a great role and responsibility, especially advisory offices in persuading and motivating developer or investor to introduce sustainable development mechanisms in his various projects.

Implementing economic development while preserving rights of future generations is a challenge removed by sustainable development, says adel Mehany.
Adel Mehany, president of the Euro-Mediterranean Association for Sustainable Development in Paris, said that sustainable development benefits all parties; the state, developers and customers. At the state level, it helps in the disposal of demolition and industrial waste to protect citizens' health. For companies, they are looking for a mechanism to implement projects using environmentally friendly materials, and the citizen enjoys a healthy and safe life.
He added that the current challenge for the state is how to implement economic and cultural development while preserving rights of future generations. Most of the population is young people, whose right to a healthy future should be preserved without wasting resources, and should consider energy saving mechanisms. The challenge is to balance the cost and return.
He pointed out that with technological development there is a global trend to increase the use of renewable energy due to its low cost, noting that what is happening in Egypt is similar to what has been in France in terms of shifting towards the application of sustainable development.
He wished to submit the conference's recommendations to concerned parties to expand the use of sustainability concept in local real estate market.
Designer's interest in sustainability changes project inputs, says ahmed Gabr.
Ahmed Gabr CEO and Principal Architect at GAF Design Studio stressed the importance of the designer's knowledge of all details of building or establishment so as to know all factors affecting the building in terms of temperature control and impact of environmental changes on it.
Gabr added that designer must know how to work building facade in a specific way to achieve certain purposes, as well as the use of certain raw materials through which to control temperature of units inside the building.
He further highlighted that the distribution of lighting inside the unit has come within tasks of designer.

Taking into account details of sustainability process in projects is designer's task, says amgad Shamaa.
Additionally, Amgad Shamaa, CEO of Amgad Shamaa Designs, believes that real estate developers should focus when implementing a new city or project on the selection of an architectural consultant who can offer a distinct real estate product and takes into account the finer details, including sustainability in the project.
Shamaa clarified that taking into account the sustainability element when designing a project changes the way of designing the building and consequently implementation.
"Architect should think logically in design of a project and pay attention to details so as to reach a distinctive project that combines luxury and distinct design," he noted.
He explained that each raw material used in the implementation of a project varies according to the concept of sustainability in the project and the impact of raw materials on the project and life of its inhabitants.
Moreover, the design must have specific criteria that control the adoption of the project's masterplan to achieve sustainability,  Shamaa disclosed.
He elaborated that supporting Egyptian manufacturers enables him to compete and reduce cost to the developer.

Building codes have to be modified to comply with sustainable development standards, says hani Al-Awadi.
Likewise, Hani Al-Awadi, head of T Track PVC-U Window and Door Systems, pointed out that development and sustainability is a very important issue and should be a goal and a direction by the government in the coming period, especially in the framework of newly launched fourth generation cities.
He pointed out that Egyptian product is qualified to compete with global markets, but it requires some conditions, first of all, plants should be environmentally friendly, which need support and faith of the state to achieve this, and support for national factories in this regard.
He added, "Some of our products are rejected in foreign markets because of non-compliance with sustainable development standards."
Al-Awadi called for launching awareness campaigns for citizens on the importance of sustainable development, amending existing laws and legislations in line with sustainability, as well as amending building codes and supporting Egyptian manufacturers to cope with international products.

Sustainable development addresses lack of resources problems, says ahmed Hassan.
Ahmed Hassan chairman of Mariout Hills said that one of the most important challenges facing the implementation of sustainable urban projects is lack of consultant offices to design and manage a fully sustainable project.
Over the past years, there has been a global trend towards sustainability, Hassan said, adding that it has become a fait accompli to tackle problem of lack of resources and energy depletion.
Hassan pointed out that although Egypt's North Coast is undergoing tremendous urban development and giant projects are being built by the private sector, it is expected that by 2020 there will be problems related to water connection in the North Coast.
He added that there must be sustainable solutions to ensure the permanent access to utilities for large projects coming in the North Coast.
He explained that most developers are not enthusiastic about sustainability projects, however, traditional unsustainable projects use enormous electric power, which is contrary to the thought of sustainability.
Hassan believes that using sustainable development in managing utilities of projects in new cities, especially the North Coast will help attracting European client to the area, especially in winter, which is the most important factor on which this client takes decision to purchase or lease property.

Egyptian contracting companies succeeded in implementing construction works in accordance with sustainable development, says ramez Shafik.
Meantime, Ramez Shafik, Business Development Manager at Hill International- Egypt, confirmed that Egyptian contracting companies succeeded in implementing construction works in accordance with sustainable development standards.
Shafik stressed that contractor must adhere to specific standards and steps during construction process and any error in the way of implementation reduces the value of the building.

knowing building's energy needs is important to deal with according to sustainability rules, says hani Ebaid.
Hany Ebaid head of Electricity Department at Khatib & Alami misr said that failure to complete Hassan Fathy architecture style is a reason for our delay in development and sustainability.
He explained that energy conservation and rational consumption is one of the most important criteria for sustainable development, stressing the importance of knowing  energy needs of any building to deal with in accordance with sustainability rules.
He further confirmed the importance of offering incentives to citizens for energy rationalization, adding, "We must determine volume of our energy consumption in various aspects to develop solutions and possible innovations."