Type / Project: office + apartment
Location: Bila Tserkva, Ukraine
Area: 175, 6 sqm.

Objective:
unite under one rooftop office of large agrarian company and house of its founders
A house with a sloping roof includes working areas and a private apartment for the owners. A minimalist two-storey box is for living quarters of employees and technical accomodations for storage.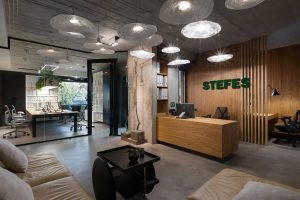 The project is quite green. There are beets near the entrance, a 6-meter living wall, and a minimalist lamp with plants above a working zone. Energy efficiency was important. A new STEFES includes solar collectors on the roof, sun protection systems, and a heat pump.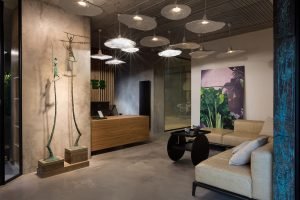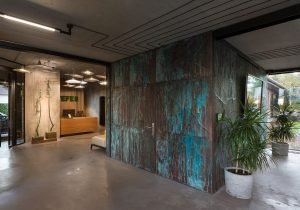 Different materials are used for zoning. For example, a security room was hidden in a copper box.
A meeting room is framed with smart glass. The system changes optical properties from transparent to matte if there's need of privacy. Due to a sliding system the room can be expanded for lectures or other collaborative events.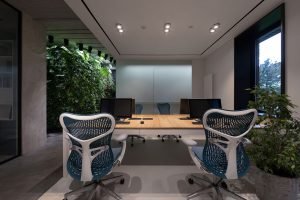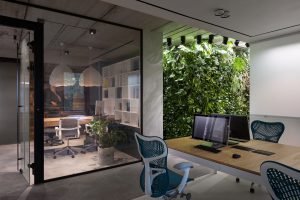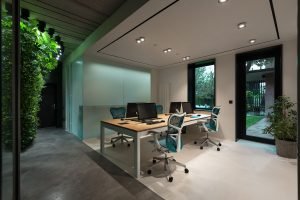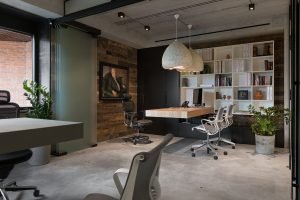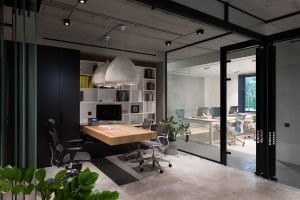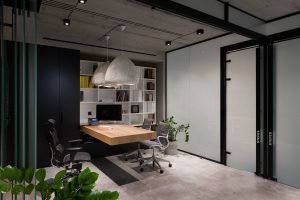 The walls of the bathroom we decorated with ceramic honeycombs – a limited edition tile that we created and manufactured ourselves.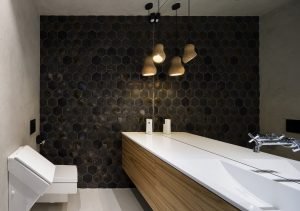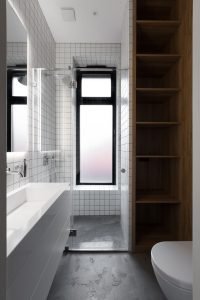 A white office table is valuable to owners as a memory. It's the company's first table bought right after the foundation. ​​​​​​​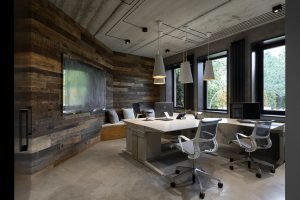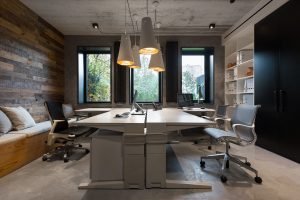 For a six-foot meeting room table we picked up the ash board, which is more than 150 years. Copper lamps above it are things that we also developed specifically for STEFES. They are one of a kind.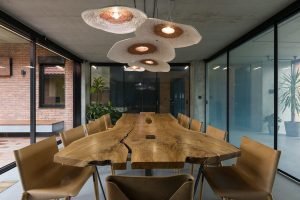 Minimalist kitchen has a functional console bar. It's a table-transformer with a lifting part to increase the number of seats.​​​​​​​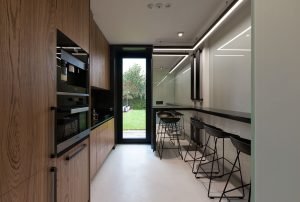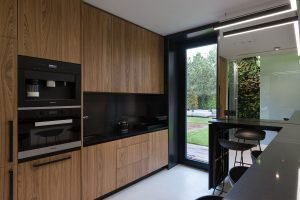 The living wall of hornbeams surrounds a courtyard.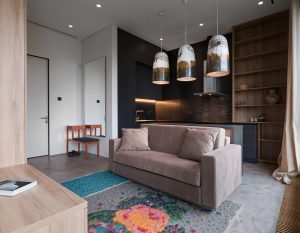 "When work started, there was a wasteland and one apricot. Now the owners have their own mini forest with grubs and other trees instead of a fence. Behind the living fence we planted 12-meter long firs and pine trees to isolate the zone."…Illia Tovstonog, the chief architect of Sergey Makhno Architects.